After few days of being suspended, Fishville game of Zynga is now up and running in Facebook. I am now enjoying the game and currently on level 13. That was fast right? So, how did I do it? Let me share some Fishville Tips and Tricks that you may follow.
Like any other aquarium games, in Fishville what you will need to do is to run your own aquarium, raise some fish, decorate your tank, clean your tank and sell your fish. The goal of this game is to keep your fish alive for you to sell it and earn some money that you may use to buy some fish and decorations and also to level up and be the top player among your friends.
When you start Fishville, you will initially get a tank that can hold 15 fish only, so with this, you need to plan right what fish to grow for you to level up fast and for you to earn more money and experience points.
Here are some Fishville Tips and Tricks to get you started.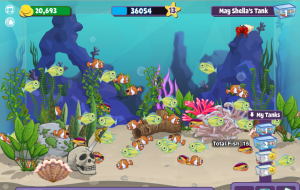 How Do We Get Coins Fast In Fishville and Experience Points Fast?
Buying Fish Eggs – Initially, this is the first thing you need for you to be able to grow and sell a fish. On buying fish eggs, you will get experience points.
Raising and Selling Fast Fish – If you are just starting, you must grow and sell fish that matures fast. These are the Mini Dart Goby, Red Spot Cardinal and the Sardine fish. You can grow them for about 5 minutes, 15 minutes and 3 minutes. You can earn coins fast and get experience points fast than raising a fish that would take you a day before you can sell them.
With Fishville, the fish have an age. As it matures the value of the fish also increases so with the experience points that you will get. Like for example with the Mini Dart Goby that grows in 5 minutes. During Age 1 you can sell them for 18 coins and you will get 6 experience points. However, if you let them grow and reach age 4 that would take you another 15 minutes to reach that age, you can sell them for 72 coins and 24 experience points per fish. See Table of Fish Points here.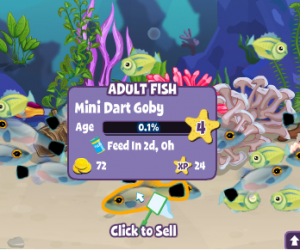 Showing Your Fish Some Love – It's like a bonus coins everyday. This will show up at the bottom left corner of the tank. If you click the heart icon that would give you some extra coins. So, show your fish some love everyday. =)
Decorate your tank – This may cost you money but would give you experience points in return.
Help your Neighbors – You can get extra experience points and coins by extending your help to your neighbors.
Selling Gifts – You may sell those gifts that you receive if you think that you will not be needing them in your tank. Instead of keeping them inside your gift box, why not sell them for some extra coins.
How To Level Up Fast in Fishville?
Experience points are the key to level up. However, leveling up fast depends on the experience points you get each tasks. You need to plan the type of fish to raise if you want to get higher experience points. So if you follow the steps above then probably you will level up fast. =)
How Many Fish I Can Grow?
When starting you are only allowed to grow 15 fish. When you reach level 4, as a reward your tank expands and would allow you to grow 30 fish. This time you can raise half fast growing fish and the rest for those fish that would take some time to mature.
Of course, the longer the time to mature the higher the coins and experience points you get. But, gaining experience points and coins will not stop there because while waiting for those fish to mature, you still have those fast growing fish to sell.
In Level 10 you can grow 50 fish and you will also unlock the second aquarium that would give you extra space to grow additional 15 fish. So, if you are on this level, you can grow different kinds of fish.
How To Get Those Dollar Coins?
Everytime you level up you will get a corresponding amount of dollars. Instead of waiting for you to unlock the additional tank by reaching the corresponding level that it requires, you may use this dollar coins in purchasing additional tanks.
Hope this simple Fishville Tips and Tricks of mine will help you in running your own aquarium. On my next post, I will share to you some Fishville Cheats, so stay tuned!!
You may also want to read this post about Fishville Tips and Tricks.
By the way, if you have some tips that I did not mention here, please leave it in my comment box so others may read it. You may also read some Fishville Tips, Tricks and Cheats in Fishville Secret, Blogkadahan-Incorporated and MenardConnect.
Happy Fishing!!! =)