Zynga launches a new game application on Facebook called Fishville, an aquarium game like Fishworld. It seems that Zynga Inc., is modifying some existing games on Facebook like Fishworld, Happy Aquarium and My Fishbowl. This is not the first time Zynga modifies a game application on Facebook and the result based on stats a lot of Facebook game players like it better than the original one. Would Fishville defeat other aquarium games like Farmville does to Farmtown?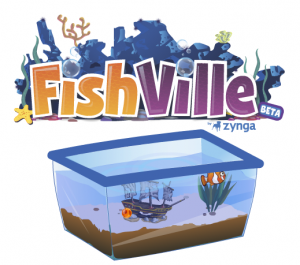 So what makes Fishville different to other aquarium games? The game is just simple like any other aquarium game, with Fishville, you need to assemble your first tank to get started, buy fish, feed them and sell them when it matures. You can also decorate your tank and purchase another tank if you think you need more fish to grow. However, you need to level up and add more neighbors if you want to purchase another tank.
I will be posting some Fishville Tips and Tricks so stay tuned!!!
Happy Fishing!!!