Ninja Saga is a casual online game in Facebook, Orkut and MySpace. If you love RPG then you must try this and might caught your attention.
A lot of Facebook users are being hooked with this. I have tried this and honestly it is far way better than Mafia Wars but as I observed, leveling up would take you time. Leveling up like any other games requires experience points.
To level up fast in Ninja Saga, you can do a little trick/cheat and hack by following the procedures below;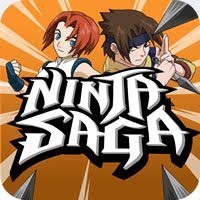 Cheat Requirements:
Procedures:
1. Open your Ninja Saga account
2. Open Cheat Engine 5.5 and choose the brower you are using. (e.g. Firefox)
3. Check value type to 8bytes and check ascrom
4. On hex box place this code 3B0008C25B5E0689 and hit first scan.
5. You'll get 4-2 addresses, right click the Bottom address and Disassemble then right click again "Toggle breakpoint"
6. Go back to your Ninja saga account and select your character and then click "Play"
7. It will freeze due to the breakpoint you have set.
8. Click "Debug > Run (or hit f9 for shortcut)
9. Repeat procedure 8
10. At the Registries panel, you will see a red line "EAX xxxxxx"
11. Left click on it and it will ask you to insert the new address, so you paste "FF011B8A" into it(IF YOU WANT LEVEL 19 ONLY PASTE THIS "11A6C")
12. Now right click the address and click "Toggle breakpoint" again to remove the breakpoint.
13. Click "Debug > Run
14. Now go back to your Ninja Saga. It will reload and you will be level 336.
If you can't follow the procedure above, watch this video tutorial. The video will teach you how to level up fast and how to get more coins. The procedure on this video is different from the procedure above.
Ninja Saga Level Cheat|Coin Cheat Video Tutorial
If this Ninja Saga Cheats and Tips no longer work, you can read and try other Ninja Saga Cheats and Ninja Saga Token Cheats here.