I am a certified Nokia user and currently using two Nokia phones. My hard earned labor phone was Nokia N95 8GB and my latest Nokia E72 that my hubby bought for me just recently as his birthday gift.

I was a little bit late to know about Nokia N8. I was hopping some webpages about the Symbian OS and Windows Mobile for comparison when I accidentally land on a page with Nokia N8 photo. I'm not sure if this gadget was released already since it was rumored that the release date would me middle of April while other says it would be late May or early July of this year.
While reading some information about Nokia N8, I was amazed of the features that it offers. It has a 3.5 inch high definition multitouch screen that would surely compete the iPhone gadget.
One of the coolest feature that I also like is the FM transmitter aside from the FM radio feature. With FM transmitter feature, you can stream your favorite MP3 tracks into your car radio. I have tried the FM transmitter feature from other Nokia unit like N79 (my husband's current phone) and it's cool. So, having an FM transmitter feature is a plus factor to Nokia N8.
Nokia N8 has a 12 megapixel camera with Carl Zeiss glass and Xenon flash that features a larger sensor than any other Nokia device. It can even compete with any dedicated cameras in terms of it sensor quality not only that, the Nokia N8 camera is capable of recording High Definition quality footages. You can view your videos through an HD ready TV set through the HDMI port. Sounds interesting isn't it?
It's not just the camera that excites me to at least have the chance to hold and try the unit. What I like as well is that it has a five-band 3G coverage and a 16GB built-in memory that can be expanded up to 48GB with micro SD card. Is it not awesome?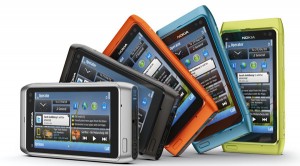 Nokia N8 comes in different color with aluminum casing. So you can choose the color that bests fit your style. How I wish someone would send me one of this unit as soon as it's out in the market so I could try it. Hope Nokia read my post and send me one to keep it for good!!! Hehehe, I promise to promote Nokia products here in my blog if I receive one from you guys!! =) My first impression with Nokia N8? It is "fantabulously" (fantastic + fabulous) cool!!! =)