Yesterday was a treat to some bloggers at SM Lipa Food Court. It's a pleasure to be one of those lucky bloggers who were able to join the SM City Lipa Bloggers Food Treat. Together with other Batangueno Bloggers, we enjoyed the buffet of foods served to us by the participating food tenants.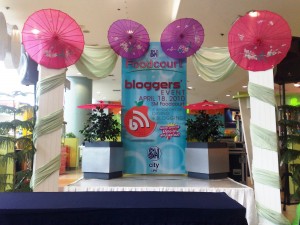 SM City Foodcourt offers a wide variety of foods at a lower price compared to other food chains. It is not just the food you eat that you will enjoy at SM City Lipa Foodcourt but also the free Wi-Fi connection. Satisfied ka na sa kinakain mo, nag-enjoy ka pa sa pagsusurf sa internet, sulit na sulit di ba? So, saan ka pa?
All of the foods that they served yesterday are all delicious. May sisig from Kusina ni Gracia, Bopis from Chin's Express, Lumpia from Inihaw Express, Calamari from Seafood Grill Station, the yummy Chicharon from Chicharon Espesyal and a lot more.
If you want a light snack, you can have Shawarma from Khaleb's Shawarma, Potato Fries from Potato Madness, Shabu-shabu at Chef Chow Shabu or kung gusto ninyong magpalamig, go ka na sa Thisty Juices and Shakes at Miguelito's Soft Ice Cream.
Yesterdays event at SM City Lipa Foodcourt was a great experience and I would like to thank Ms. Wendy (SM City Lipa PR Officer) for inviting the bloggers to the said event.
You can read similar post about SM City Lipa Foodcourt in WowBatangas website.