Zynga, one of the biggest social-gaming developer announced last Thursday that it has launched a new game for Facebook called Petville. Petville is similar to Pet Society of Playfish. It is a pet simulation game that allows you to create your own pet, dress, raise and care for that pet that you have created. You can visit your friends' home, socialize with their pets and earn some coins that you can use to customize your own house.
If you are playing Pet Society then you know what to do since they are all similar. The only difference that I have observed is the graphics of Petville. It is much nicer than Pet Society. However, there are still a lot of things that they need to develop and add like allowing pets to go in main street like Pet Society.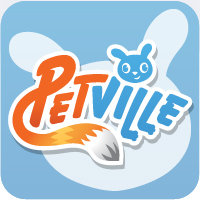 Here's a video introduction of Petville for you to be familiarize with the game.
Petville is still in Beta so expect some glitches. Want Petville Tips and Tricks? Visit this site regularly for more future updates about Petville. While it is still new, start playing now so you will be ahead with your friends.