Howdy players? Tired of playing farm games, restaurant games, mafia games and aquarium games? Now, there is a new game in Facebook created by Playdom, the Social City game.
I've been playing the game for more than a week and let me share some Social City tips, tricks and cheats based on my own social city experience.
Social City is a simulation game like Sim City where you build and run your own virtual city. It is still in beta, so like any other games in Facebook there are still some glitch on the game.
To start, you will get 40,000 coins and 10 city bucks to spend for your city, three house cottages for you to grow your population, two factories for you to earn coins and a woodland park to make your people happy.
The objective of the game is for you to create your own city, make the population grows and to keep your people happy.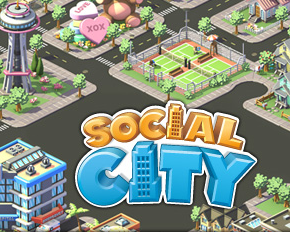 Population:
Build residential buildings to grow population. It brings new people into the city. There are different types of residential buildings, like house cottages, log hut, hotel, bungalows and so on. A log hut creates 75 people in 6 hours while a cottage gives you 10 people in every 8 minutes.
When you reach 1000 citizens you receive "Wide Spot in the Road" achievement, a 3000 coins and a community center.
Happiness:
The icon on your upper right shows the moods of your people. If they are sad, your population cannot grow. Build leisure buildings and decorations to make your people happy.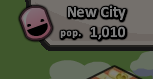 Experience Points:
You gain experience points everytime your population grows. You can also gain experience points everytime you completed a contract, everytime you build residential buildings, leisure buildings and factories. You also get experience points by simply decorating your city with terrain.
There are also some achievements, that gives you extra experience points like "Factory Operator Badge"
Earn Coins:
You earn coins by completing a contract. You can build contracts by clicking on a factory in your city. Each contract can be done in a specified period of time. A 5 minutes contract will give you 350 coins while a 20 minutes contract will give you 1,230 coins. Some contracts can be done in longer hours and even in days.
Aside from completing a contract, once you level up, you also get a corresponding coins and city bucks reward.
When you log in every day, you get a daily bonus and that adds up to your coins.
Cleaning leisure buildings also gives you extra coins.
You can also earn coins by helping your friends city so it is very important to add as many friends as you can so you have someone to visit while waiting for your contracts to complete.
I will be adding some Social City tips, tricks and cheats on my next post so stay tuned and keep on visiting this blog. You can also refer this blog to your friends.
For more awesome Social City Tips, Tricks and Cheats, visit the Social City Domination Guide.
Another blog post about Social City tips,tricks and cheats here and here.