Rhian Ramos showed her talent in singing when she sang the themesong of her own fantaserye Ilumina last sunday in Party Pilipinas. And soon, we will be hearing more from Rhian because her first album is soon to be released.

According to Rhian, her album is supposed to be out middle of this year. They planned and decided that the album should be released a week before her birthday. However, due to her busy schedule with her fantaserye and other projects like Kaya ng Powers and Party Pilipinas, the beautiful actress had no time to do the recordings. So they might move again the release date, but Rhian hopes her album will be out last week of September, that's a week before her birthday which is October 3.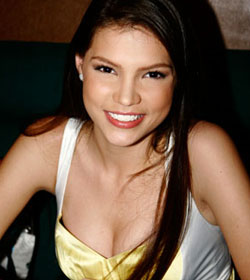 Rhian revealed that her album is more on pop music both in English and Tagalog. She added that it's all original songs about love, so that's what the fans should expect in Rhian's upcoming album.
Currently, Rhian is busy doing her fantaserye Ilumina and other projects like Party Pilipinas and Kaya ng Powers and some rehearsals.
If you like this post, share this to your friends.