Father's Day is coming our way and it is the perfect time to tell your Dad, Dada, Papa, Papang, Itay, Tatay, Papsie or Daddy that they are the BEST Dad in the world. Express your love and appreciation by sending them some heart warming and funny father's day text messages and make him feel very special. Happy Father's Day to all Daddy's out there!
1. I may not say it often but I feel it everyday… You are a great Dad… and a loving and caring husband. Happy Fathers Day to you!!
2. Anyone can be a Father… but it takes someone special to be a Daddy. You're the BEST Daddy! Happy Daddy's day!!!
3. Father's Day gives you the perfect excuse to put your feet up. down a few cold ones and watch the tube. Tomorrow you will have to go back to your old excuses.
4. Dad, Just sit back and relax. Today is your day. If you want coffee, tea, snack or anything at all… just holler… and I'll go get Mom!!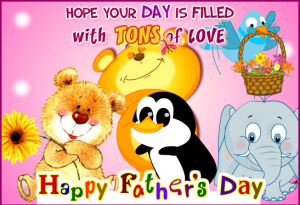 5. Happy Father's Day Dad!! You always treated me like a little princess. Hey! Do you think that's why I'm such a royal pain in the butt sometimes? =)
6. In sunshine and cloudy days, your friendship has always been very special to me… Happy Father's Day to a good friend… who's a great Dad too!!
7. The greatest gift I ever had came from God and I call him Dad! Happy Father's Day Dad!!
8. Dear Daddy, Thank you for being a great father, a great provider… a father's love is priceless. Happy Father's day!!
9. Daddy, you are my guiding star and will always be. Happy Father's Day!
10. Through all the ups and downs… success and failures… highs and lows… I've always found you beside me Dad. Thank you for always being there. Happy Father's day!!!
More Father's Day Text Messages? Click the link here.