Hubby was surprised when he learned that the Pinoy Version of Hangaroo Game he created was featured last February 6, 2010 in GMANews.TV Website.
The Pinoy Hangaroo game was up for a year already and this is just the first time it was featured due to its presidentiables and slogan content.
With this, traffic from all corners of the blogosphere came in. However, there are some people who claimed that they/he smell copyright infringement.
This is just to clear things out and to clear the minds of those people who are very suspicious without enough evidence to prove their accusations.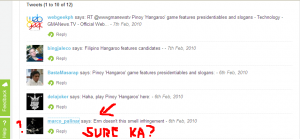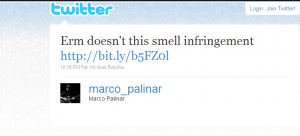 First and foremost, my husband WOULD NOT ruin his DIGNITY and CREDIBILITY by copying and claiming such work that is not his. We do not claim the Hangaroo game as Ours but only the Phrase Files that my husband had patiently collected and formatted for it to work properly.
Second, Nothing was modified in the software and all credits and copyright are still with NCBuy Gamehouse.
Third, adding the game into our website is not infringement. NCBUY Game House is the one encouraging webmaster's to add their games into their sites for free.
Lastly, using our own phrases with Hangaroo is allowed. The game supports the use of external data files that can be created using your own word lists and categories. NCBuy Games even provided a tutorial how to create phrase files of your own and how to make it work. That is the reason we have come up of Pinoy phrases to make the game more exciting since we cannot relate much with the original phrases of Hangaroo game.
So for those people who maliciously think of infringement, here's what I can say… it is not our line of work, so better investigate before commenting such a stupid accusations.
Want to play Pinoy Hangaroo? Click here.