This is just a simple tip from me. If you want to learn more Farmville secrets, click here. 😉
Some may know this, however a lot still don't know about this trick and still don't know how to do it. Farmville Stacking is a way of decorating your farm, giving your farm a different look from the traditional farm in Farmville. It's a Farmville Trick of some players giving your farm a unique look.
This new Farmville Stacking trick is so easy to learn however for some people it needs patience and time. So, let me share to you some points on how to do the tricks.
By the way, this trick is just an optical illusion caused by the isometric perspective of the game. It's not a real stacking.
Here's a sample photo that gives you the illusion of a higher level like a hill and the crops are on the ground. So, how to do that? Let me share this Farmville Stacking Tricks thay you may use in your farm. Click the photo to a bigger image.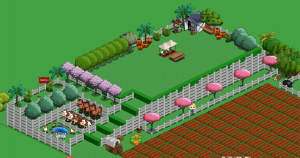 How To Stack Fences in Farmville?
The way to do this effect is so simple. All you need to do is to place multiple fences behind one another and align the posts of the fences. To let you understand further, let me share this video tutorial on Stacking Fences in Farmville. However, this video is just the basic for you to know how, from there, it is your imagination that would guide you on how you want your farm to look like.
Now that you learned the basic on stacking fences, let us proceed on "How to Stack Hay Bales". Actually, same procedure applies when stacking hay bales. Below is the video tutorial on how to stack hay bales.
Do you think it is easy? Why don't you transform your farm with a different look compared to your neighbors farm. For sure, your farm will stand out among your friends farm. Try this trick and enjoy!!!
For more Farmville secrets and strategies, click here! 😉
Happy Farming!!! (",)