Zynga is taking a step forward by introducing Farm Themes in Farmville game in Facebook. Farm Themes let the players personalize their farms the way they wanted it to look like according to their own style. It's a set of items that when used will give your farm a different look. If you want your farm to turn into a Old West style or a Western Ranch style, you choose the items from the appropriate theme.
Voting is still going on and that is where they will decide of what themes to come out first. The new feature is soon to be announce after they tally the results of votes to which Farm Themes to be release.
Farmville players are looking forward for this new feature and would surely enjoy the game. This would add new excitement to all Farmville fans out there.
Zynga have provided a list of potential farm themes to vote for and they are as follow:
* Wine country – Pretty gazebos, patios, outdoor fireplaces and kitchens.
* Tiki plantation – Bamboo huts, tropical plants, exotic flowers, etc.
* Eco-modern – "Green" materials.
* Connecticut – Tasteful, traditional, expensive.
* Chateau – A farm you would find on the grounds of a French country palace.
* Savannah – "I had a farm in Africa…"
* Dude Ranch – A Western ranch theme.
* Outer Space – Fun from the final-frontier. Sci-fi farming at its finest.
* Old West – This town ain't big enough for the two of us.
* Japanese Gardens – Pagodas, manicured crops, etc.
As of this posting the Wine Country Farm Theme is on the lead with 24.82%. See image for more information.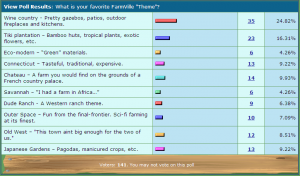 Source of Information: Farmville Forum