In Cafe World or like any other games, money hack or how to cheat coins are one of the questions of others aside from level cheat, items cheat and stamina cheats. Cafe World Coins are important in the game because you cannot cook foods you want to serve without buying it and if you don't have coins to buy foods to cook, you can't level up or gain experience points that fast. You cannot even expand or decorate your cafe if your money is insufficient.
So, how do we Cheat Coins in Cafe World? As far as I know, Cafe World Coin Cheats is not working anymore. They are using the same Cheat Engine 5.5 plus Adobe Flash Player. There are even video tutorials in YouTube about Cafe World Coin Cheat, however those video tutorials are already shut off due to a copyright claim by Zynga Game Network Inc.
Now, how can we gain more coins without using cheats? Is it possible? Let me share some Cafe World Coin Tips how I incurred more coins in Cafe World.
Honestly, the only cheat I used in Cafe World is the stove cheats. Currently I have 22 stoves and with my counters, I did not cheat to get more counters. I waited to level up, for me to get more counters and now I have six counters already. The image below is my current cafe layout.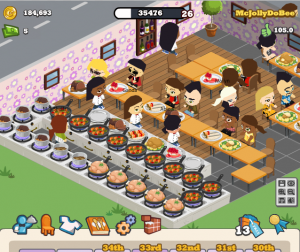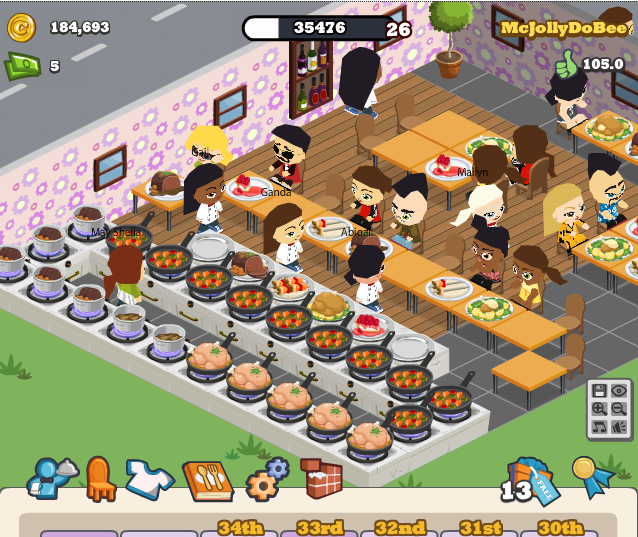 The stove cheat helps me a lot in earning more coins. You can see the image above; I am on level 26, with almost 200k Cafe World Coins. I even maintain a buzz rating of 105. These Cafe World Coin Tips are based on my Cafe World Experience. I just want to share with you so you will get some ideas on how to manage your own cafe.
1. Plan the food to cook and serve. – I started out with only three counters and seven stoves before I tried the stove cheat. What I am doing is, I am planning what food to serve since I only have three counters and seven stoves. Always remember that the money you earned depends on the food you are serving.
2. Do not run out of food in your counter. РBefore you open your cafe make sure that you have plenty of foods in your counter. This will also affect your buzz rating if you run out of foods. The same thing applies when you leave your caf̩ open overnight.
3. Keep your buzz rating high. – The higher buzz rating you get the more customers will eat in your cafe equals more coins you get.
4. Visit friends' cafe to get more coins. – While waiting for your food to be done, visit all your friends' cafe everyday so you will get extra coins. That will add up to your cafe coins everyday.
5. Invite more friends to play Cafe World. – The more friends you add, the more coins you get daily.
By the way, I've learned this trick from other players. On cleaning the stoves, instead of clicking the stoves to clean it, what they do is dragging the stove to their inventory for them not to cost 15 coins when cleaning it. When they put back the stove to their café, it's clean already. This trick is only applicable for those players who did not use the cheat on stove tactic.
These are the basics tactics I am doing for me to get more coins everyday. Now that I have more stoves to use, I am still doing the same procedure. You can acquire more coins in cafe world even if there's no cheat. It is just a matter of planning and a little trick of thinking. =)
You can also visit Cafe Secrets Guide on how to get level 50 Cafe and have a bigger restaurant with lots of oven and money. This Cafe Secrets Guide was proven and tested by me.