Who doesn't know Zorro? A horseman who help people against unjust government, known for his black cape and mask. I think none. It was Antonio Banderas who played for the movie "The Legend of Zorro".
I loved the movie and I enjoyed it very much. However, I didn't think of it to have a Filipino Version. It was GMA-7 who grabs the right of creating a remake of the said story. It is based on Johnston McCu-lley's novel, "The Curse of Capistrano," which first featured the fictional character of Zorro.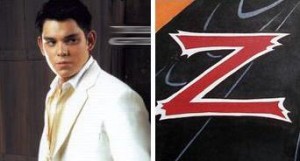 Richard Gutierrez, who will play the role of Zorro underwent a painstaking horseback riding lessons together with one of his leading ladies, Rhian Ramos. He also studied fencing under the coach of the Philippine Fencing Team, Benny Garcia.
Zorro will start this Monday, March 23, 2009 on GMA.
Doing a remake has been part of the Philippine television not just in GMA but with other networks. It is just sad that Filipinos couldn't make our own brand anymore. We became dependent of making a remake than creating our own soap stories. Is this the trend already? Nasaan na ang TATAK PINOY?