Hello there paper beaders! I just want to share this paper bead necklace that I have made. I have already created plenty of paper beads, but I still don't have or I can't think of any idea what to do with it aside from making it as earrings or a bracelet.
It just so happen that Aleshia of Beadifulnights shared her star pendant tutorial in YouTube and have replaced the beads with paper beads because the shape of the beads that she is supposed to be using is hard to find. Thus, she made her own beads out of paper based on the size that she needs and the paper beads fits the star pendant perfectly.
I am posting through my phone so it is difficult for me to attach the tutorial video of Aleshia, but you can go ahead and search Beadifulnights in YouTube to check her videos.
I created two necklaces with paper bead star pendant. Each type of beads were individually cut, hand-rolled and glazed using diamond glaze that dries to a clear glass-like finish.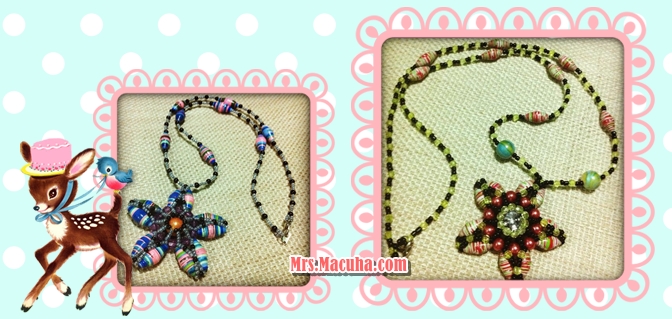 Meanwhile, I have new sets of paper beads that I just recently finished. I'll post the photos on my next blog update.
That's all for today! Thanks for visiting my blog and kindly "Like" my blog's Facebook Page by liking the like button on the sidebar of this blog. For more photos and updates with my creations, you can visit and "Like" my arts and craft Facebook Page at Paper Craft Wonders. Until next time!!