Nissan Leaf was named as 2011 World Car of the Year during the New York International Auto Show, international news reported. The all-electric Nissan Leaf is the first electric car to win a global auto prize, beating out the Audi A8 and the BMW 5-Series.

"It is a great joy that the world's first, mass-marketed electric vehicle, the Nissan Leaf, has won the prestigious award," Nissan Chairman and CEO Carlos Ghosn said.
Nissan Leaf is 100% electric which features zero tailpipe emissions, high response 80kW AC synchronous electric motor, speeds up to 90 mph and powered by a lithium-ion battery that can be recharged in about eight hours. It's a 5-seater, 5-door car and has a 100-mile range.
The World Car of the Year Award was announced on Thursday and were chosen by a panel of automotive journalists from Europe, North America and Asia.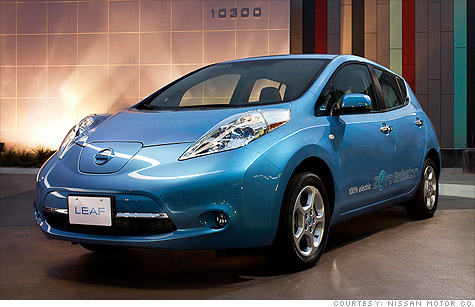 Image Credit: Nissan Motors Co.